Remember the recession? Is that still going on? I can't seem to tell because everywhere I look there's some new fabulous trend that everyone can't wait to get their hands on. I have carefully picked a few classic pieces that I think will definitely outlast the test of time. Perfect for the holidays!
Now some pieces will definitely break the bank but if you don't have a 7 figure wall street account I've also listed the moderate and affordable pieces. Enjoy!
Remember, fashion does not have to break the bank!
A. Who hasn't drooled over the Hermes Collier De Chien (CDC) Bracelet? Currently at Hermes for $1200 ( if it's even available). The CDC can run you up to $1800 on ebay. That is crazy but hey if you got it flaunt it.
B. The moderate version is the Fendi leather bracelet/cuff currently retailing at Neiman Marcus online for $320.
C. If you don't want to break the bank I bring you Vince Camuto's snake turn lock cuff available at Macy's for only $68!!
A.
B.
C.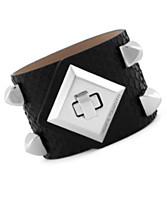 Continuing with the arm candy . . .
A. Let's talk about Hermes' Kelly 2 watch. This iconic piece will cost you $2,000. Currently available on the Hermes website. Get it while it's hot!
B. Michael Kors seems to be very popular with the ladies, and for good reason. Quality and fashion all in one and it won't cost you an arm and a leg. Meet Peyton. Your's for only $195 at Nordstrom.
C. La Mer simple wrap watch $88 at shopbop.com.
A.
B.
C.
A woman's best friend, her handbag! I remember not ever carrying a handbag and my dad telling me that a woman should always carry a handbag. He definitely knew what he was talking about.
A. I have a friend who's on the wait list for the Birkin bag, designed and made for Jane Birkin in 1984. She's been on that wait list for 2 years. Now I don't know exactly how much this bag will cost but if you are in serious need for it you can find one on Portero.com starting at about $19,000! Crazyness!!!
B. Next I bring you Fendi still expensive but only about a 17% of cost of the Birkin. Fendi's peekaboo tote for $3720.
C. That's still a lot of money so how about Prada's Saffiano Lux tote for $1730.
D. Ok, that's still too much so let's turn to . . . . drum roll please . . . Michael Kors' Hamilton for $348.
E. One more! Aldo's Margison for $55!
A.
B.
C.
D.
E.
Moving on to the oh so classy Cartier Love bracelet. If spending $5,500 on a bracelet is not in your immediate future I bring you Michael Kors Astor for $95 and Vince Camuto's gold bangle for $68.
And last but not least the iconic Chanel quilted shopper. I give you Kate Spade "Gold coast Maryanne" $478 and ASOS Quilted shopper $43.98.
That's it for now! I'll conjure another list in a few weeks!!